"What graphics card within my budget gives me the best bang for my buck?"
That simple question cuts to the core of what people hunting for a new graphics card look for: the most oomph they can afford. Sure, the technological leaps behind each new GPU can be interesting on their own, but most everyone just wants to crank up the detail settings on Battlefield and get right to playing.
To save money on your holiday shopping, check out our roundup of the best Black Friday deals on CPUs, GPUs, monitors, routers, and more.
Updated November 23 to include the Radeon RX 6800 and 6800 XT in the news, 1440p, and 4K gaming sections.
Answering the question can be a bit trickier than it seems. Raw performance is a big part of it, but factors like noise, the driver experience, and supplemental software also play a role in determining which graphics card to buy. And do you want to pay Nvidia's RTX premium to get in on the bleeding edge of real-time ray tracing?
Let us make it easy for you. We've tested nearly every major GPU that's hit the streets over the past couple of years, from $100 budget cards to $1,200 luxury models. Our knowledge has been distilled into this article—a buying guide with recommendations on which graphics card to buy, no matter what sort of experience you're looking for.
Note: There are customized versions of every graphics card from a slew of vendors. For example, you can buy different GeForce GTX 3080 models from EVGA, Asus, MSI, and Zotac, among others.

We've linked to our formal review for each recommendation, but the buying links lead to models that stick closely to each graphics card's MSRP. Spending extra can get you hefty out-of-the-box overclocks, beefier cooling systems, and more. Check out our "What to look for in a custom card" section below for tips on how to choose a customized card that's right for you.
Graphics card news
Nvidia's RTX 30-series GPUs earned top marks in our reviews, but their unopposed reign proved short-lived. For the first time since the Radeon R9 290X era seven long years ago, AMD is challenging Nvidia at the high-end with Radeon RX 6800-series graphics cards that meet or beat the RTX 3070 and 3080 in every gaming task but ray tracing, and they come with a hefty 16GB of onboard memory. Our comprehensive Radeon RX 6800 and 6800 XT review has all the details. The flagship $999 Radeon RX 6900 XT arrives on December 8 with its eyes on Nvidia's $1,500 GeForce RTX 3090.

All these high-end announcements have rendered several former flagships obsolete, but those older cards are still selling for full price at retailers. Don't be a sucker. Here are seven GPUs you absolutely shouldn't buy right now.

But don't expect to be able to buy one of AMD or Nvidia's latest cards easily. The GeForce RTX 30-series and Radeon RX 6800-series sold out instantly and remain scarce in the face of overwhelming demand, with scalpers and bots snatching them up just as greedily as enthusiasts. With all these graphics cards being so great, the best one to buy right now might just be whatever you can get your hands on.
Best budget graphics card
Editor's note: We're leaving our recommendations for budget cards intact below but be aware that Nvidia and AMD have begun rolling out their latest generations of graphics cards. Both companies started at the high end but we're likely to see more affordable new GPUs with much higher performance than the cards we recommend below start to roll out over the next few months. Our picks below stand if you need to purchase a graphics card immediately, but consider waiting for the upcoming releases if you can.
The Nvidia GeForce GTX 1650 Super is a superb 1080p graphics card that can hit the hallowed 60 frames per second mark at High or Ultra settings in virtually all modern games—a hell of a feat for just $160, or $170 for the feature-loaded ROG Strix model we evaluated. It comes packed with 4GB of ultra-fast GDDR6 memory, and Nvidia's latest and greatest Turing NVENC video encoder, something the original GTX 1650 lacked. Better yet, Nvidia's GPU is incredibly power efficient, and that means these graphics cards run cool and quiet, too.
You'll need a six-pin power connector to run the card, which is much more potent than its non-Super cousin, the $150 GeForce GTX 1650. The only reason to consider the non-Super version is if you're upgrading a big-box office PC into a gaming rig and have no extra power cabling available, since the vanilla GTX 1650 can draw all its more from your motherboard. Otherwise, the GeForce GTX 1650 Super is far superior, especially for just $10 more.
Unfortunately, the ROG Strix isn't available at retail at the time of publication. Two other Asus GPUS—the $165 GeForce GTX 1650 Super Phoenix Fan EditionRemove non-product link and $160 Asus TUF GTX 1650 SuperRemove non-product link—are, and you should expect similar bottom-line gaming performance out of them, though these alternatives don't pack all the same extras as the Strix.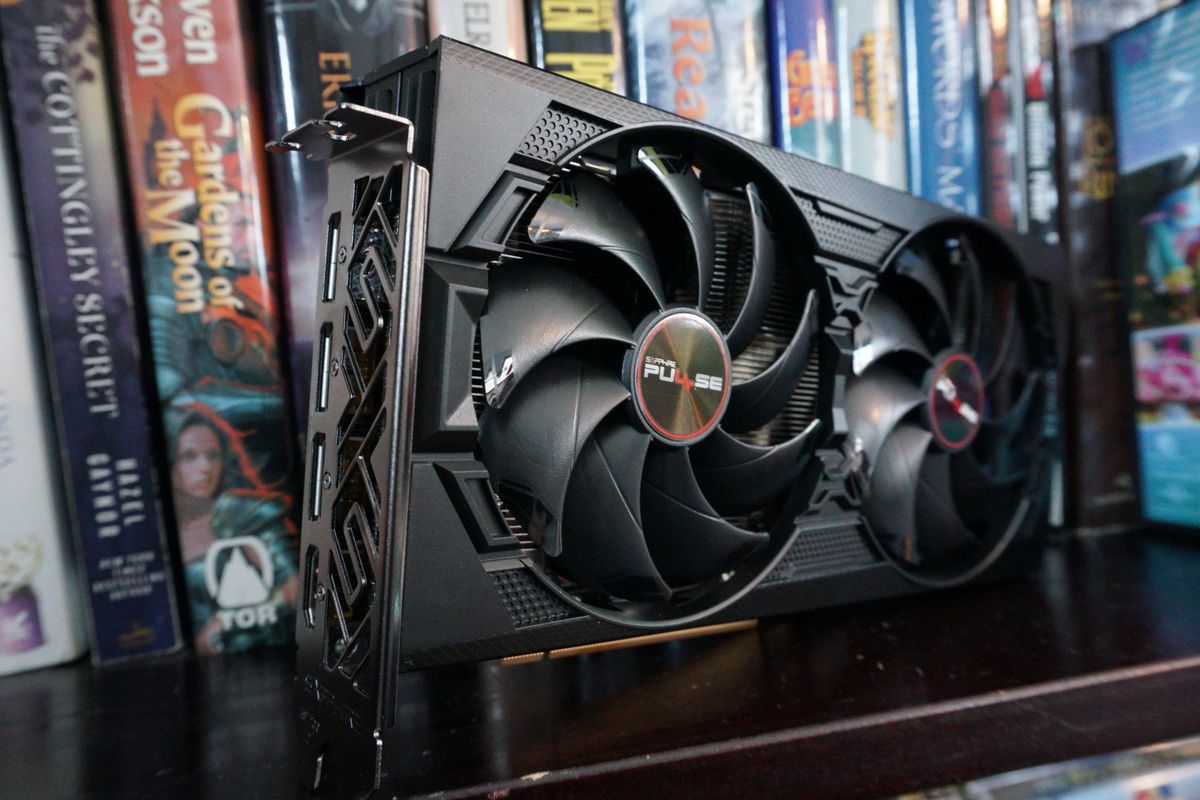 AMD's counter to the GTX 1650 Super, the Radeon RX 5500 XT, launched shortly after in two versions: $170 for 4GB of RAM, and $200 for 8GB. It's built using AMD's next-gen "Navi" RDNA architecture, complete with cutting-edge PCIe 4.0 support and best-in-class power efficiency, as well as GDDR6 memory. Nonetheless, its performance hasn't moved much beyond its Radeon RX 500-series predecessors, and it's both slightly slower and slightly more expensive than Nvidia's graphics card.
For that reason, we give the GTX 1650 Super the nod here, though AMD's bundling of a free copy of Monster Hunter World: Iceborne Edition and three free months of Microsoft's awesome Xbox Game Pass for PC could tip the scales if you're interested in those. It's a good graphics card capable of satisfying 1080p gaming with some settings tweaks, but not quite as good as the competition. Sapphire's superb Pulse Radeon RX 5500 XT is a killer custom variant with a mere $10 premium if you go for Team Red.
If you're willing to dial graphics settings down a bit, the last-generation Radeon RX 570, built on AMD's ancient Polaris GPU architecture, is still a compelling option at roughly $130 on sale. We've even seen it as low as $100, and that includes three free months of Microsoft's superb Xbox Game Pass for PC, as well as your choice of either Borderlands 3 or Ghost Recon Breakpoint—a wildly good deal. The Radeon RX 570 isn't nearly as fast as the GeForce GTX 1650 or Radeon RX 5500 XT, but you'll be able to play modern games at Medium to High settings and get near the hallowed 60 frames per second mark. AMD's aging Polaris GPU absolutely sucks down power compared to the modern alternatives, though. In addition to requiring much more energy from the wall, that also means these cards tend to run a bit louder and hotter, and the card designs tend to be larger to shove in more cooling capacity.
Best 1080p graphics card
Editor's note: We're leaving our recommendations for 1080p cards intact below but be aware that Nvidia and AMD have begun rolling out their latest generations of graphics cards. Both companies started at the high end but we're likely to see more affordable new GPUs with much higher performance than the cards we recommend below start to roll out over the next few months. Our picks below stand if you need to purchase a graphics card immediately, but consider waiting for the upcoming releases if you can.

If you're looking to feed a high refresh rate 1080p panel, the new Radeon RX 6800-series and GeForce RTX 30-series graphics cards discussed in the 1440p and 4K sections are fine options, with AMD's GPUs hitting higher frame rates than Nvidia at lower resolutions. GeForce cards offer much better ray tracing performance, especially with DLSS enabled.
Many PC gamers play on basic 1080p, 60Hz monitors, thanks to their compelling blend of resolution, speed, and affordable pricing. While the GeForce GTX 1650 Super and Radeon RX 5500 XT mentioned in the budget section are solid low-cost options for 1080p gaming, the best graphics card for feeding those displays is Nvidia's $230-and-up GeForce GTX 1660 Super, which usurped the sweet spot crown from its non-Super sibling by swapping in ultra-fast 14Mbps GGDR6 memory. It's your best option for 1080p gaming on a standard 60Hz monitor with little-to-no visual compromises.
The GTX 1660 Super sticks to the same core specs as its vanilla GTX 1660 counterpart, but the GDDR6 upgrade speeds increase gaming performance anywhere from 7 percent to roughly 18 percent depending on the game, letting it soar well past 60 frames per second with all graphics options maxed out. It comes within 3 to 5 percent of the $280 GTX 1660 Ti, too. Not bad for a mere $10 premium over what came before. On top of the performance advantage, the GeForce GTX 1660 runs cool and is incredibly power-efficient compared to its Radeon rivals. Plus, modern GeForce GPUs now play nice with affordable FreeSync monitors as well as pricier G-Sync display option.
The original GTX 1660 will be sticking around with a price cut closer to $200, while the GTX 1660 Ti will also continue to live on at $280 or more. But the price-to-performance ratio of the GeForce GTX 1660 Super makes it a no-brainer over Nvidia's other GTX 1660 options.
If you have a monitor that supports higher 120Hz or 144Hz refresh rates and want to put it to work, consider the $280 Radeon RX 5600 XT or one of the GeForce RTX 2060 models that dropped to $60 to combat AMD's "Navi"-based GPU. The Radeon RX 5600 XT is faster than the identically priced GeForce GTX 1660 Ti across the board and can even go blow-for-blow with the pricier RTX 2060—sometimes.
In response to Nvidia's RTX 2060 price cuts, AMD let its partners release last-second VBIOS upgrades that greatly enhanced the Radeon RX 5600 XT's power draw, clock speeds, and memory speeds. The upgraded VBIOS achieves over 10 percent higher performance, thanks largely in part to the memory bump from 12Gbps to 14Gbps. But not every custom RX 5600 XT will receive an upgraded VBIOS, and some of the ones that do won't get the crucial memory speed increase. Worse, since it was a eleventh-hour improvement, the first wave of Radeon RX 5600 XT stock on store shelves likely doesn't come with the faster VBIOS preinstalled, requiring you to manually update your graphics card to get the performance increases.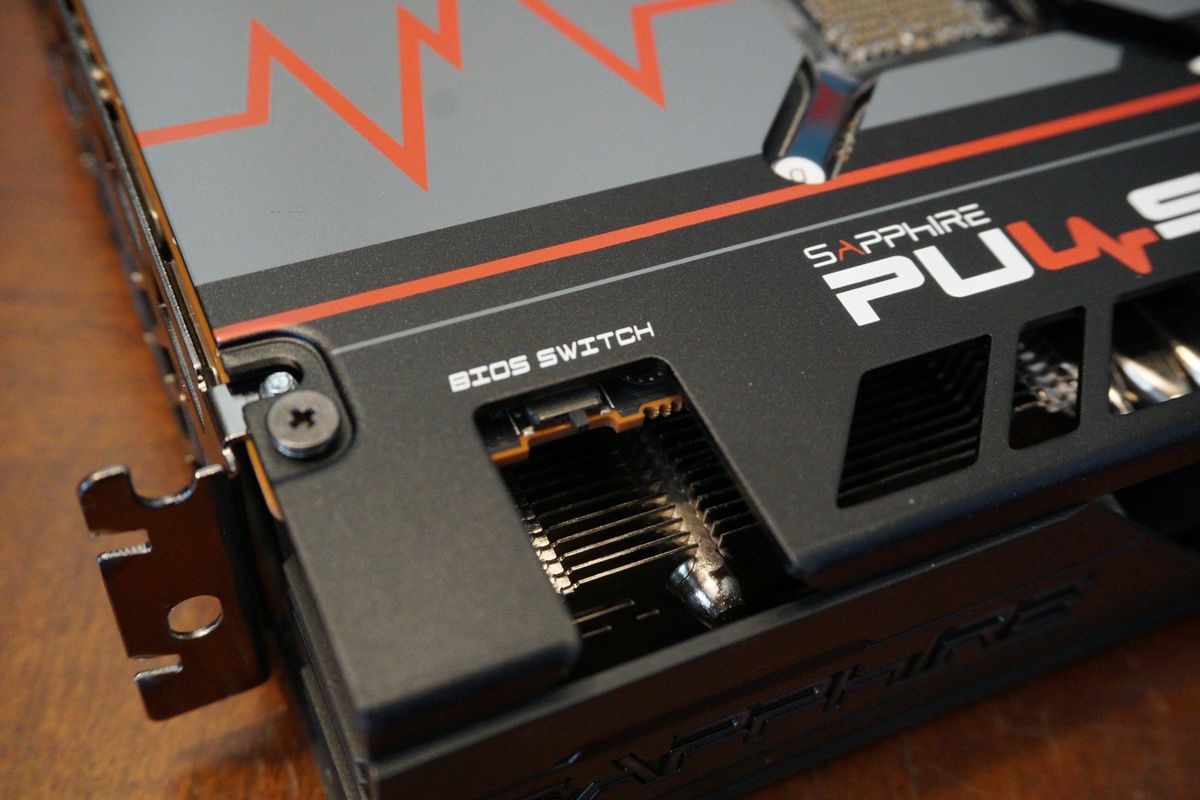 It's complicated. Because of all the confusion, we can only recommend the Sapphire Pulse Radeon RX 5600 XT that we reviewed firsthand, but we recommend it highly. The whisper-quiet card received a new VBIOS that bumped up both clock and memory speeds, and Sapphire says most of its North American stock will come with the faster speeds out of the box, all for a mere $10 premium over MSRP. If you want to shop around, be sure to read our guide on why some Radeon RX 5600 XT models are faster than others, but really, just go buy the Sapphire Pulse.
Or, if you don't want to deal with that mess, see if one of the $300 GeForce RTX 2060 cards are still available for $20 more. Nvidia's own GeForce RTX 2060 Founders Edition dropped to that price, while EVGA released a new GeForce RTX 2060 KO that starts at $300, and we've seen other manufacturers use rebates and temporary deals to match the price. They'll deliver roughly the same performance as an upgraded RX 5600 XT, as well as entry-level real-time ray tracing capabilities, but with none of the VBIOS hassle. The $300 options have been struggling with availability issues since they've launched, however, and if you move up much beyond $300, the Radeon RX 5600 XT is a much better value.
Moving back down the stack, AMD's older Radeon RX 500-series GPUs aren't quite dead yet, though they're showing their age. The GTX 1660 Super beats the snot out of the Radeon RX 580 across the board, as well as the faster Radeon RX 590. Even the affordable GTX 1650 Super beats the RX 580.
Best 1440p graphics card
With the GeForce RTX 30-series arriving and AMD's Radeon RX 6800 and 6800 XT now here, it's a great time to buy a graphics card that can feed a high refresh rate 1440p monitor. If you only have a 60Hz 1440p monitor, though, you might want to consider waiting for more affordable options to arrive from both companies.
Yes, the new generation of GPUs instantly rendered seven high-end GPUs obsolete, and unfortunately they're all the ones you'd normally buy for 1440p gaming at 60Hz. If you need to buy now, the $400 GeForce RTX 2060 Super, $400 Radeon RX 5700 XT, $500 GeForce RTX 2070 and 2070 Super, and $700 GeForce RTX 2080 and 2080 Super all remain very capable, and moreso the more you spend—but they're still being sold at near full price even after the RTX 30-series arrival. The new GPUs obliterates their value, and we're already hearing whispers of RTX 3060 variants. Consider yourself warned.
If you do have a 120Hz-plus 1440p monitor, though, the $500 GeForce RTX 3070 is an excellent option. Nvidia's graphics card delivers performance that trades blows with last generation's $1,200 RTX 2080 Ti flagship for under half the cost, while factory overclocked models like the EVGA RTX 3070 FTW3 Ultra surpass it outright. Expect to see frame rates well over 80 frames per second in most games even with graphics options set to Ultra. 
The GeForce RTX 3070 only has 8GB of GDDR6 memory. That might not be enough for 4K gaming going forward, but it's fine for 1440p in most scenarios—but not all. Watch Dogs Legion, for example, uses more than 8GB of VRAM at 1440p if you crank up the graphics settings and turn on real-time ray tracing. If you're leery, consider buying the $580 Radeon RX 6800 instead. You pay a bit more for a bit faster performance, but more importantly, AMD loaded the Radeon RX 6800 with an ample 16GB of GDDR6 memory. Nvidia's RTX 30-series cards are much, much better at ray tracing, however—and $80 cheaper.
That said, if you're looking to max out a high refresh-rate 1440p monitor, or drive a 3440×1440 ultrawide monitor, Nvidia's $700 GeForce RTX 3080 and AMD's $650 Radeon RX 6800 XT are stellar options that trade blows in raw performance. Even with all the visual settings cranked to Ultra, these monstrous cards deliver above 100fps at 1440p resolution across the 10+ games we tested, and often well above. The RTX 3080 and Radeon RX 6800 XT deliver over 50 percent more performance than the RTX 2080 as a baseline across the board and beat even the RTX 2080 Ti by a healthy margin.
All of these options are also fast enough to play ray traced games at a smooth clip at 1440p—something you couldn't say with older RTX 20-series cards. You may need to tweak some visual options back when enabling ray tracing on AMD's cards, however, while faster RT cores and DLSS technology mean you won't need to make the same sacrifices with Nvidia's GPU. AMD holds the memory capacity edge once again, however, at 16GB of GDDR6 versus 10GB of GDDR6X in the RTX 3080, but that shouldn't matter too much at 1440p resolution.
Don't buy the RTX 3080 or Radeon RX 6800 if you only have a 60Hz 1440p monitor. They're expensive overkill unless you have a 120Hz-plus 1440p monitor that can put it ludicrous speeds to good use. They're a fine pairing with a 60Hz 3440×1440 ultrawide display, though, as that higher resolution is more demanding.
Next page: 4K graphics cards, what to look for in a graphics cards