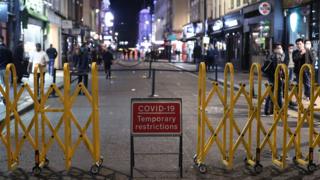 The government is treating Parliament with "contempt" by pushing through new powers to tackle coronavirus without debate, the Commons Speaker has said.
Sir Lindsay Hoyle said he could not give MPs a vote on getting a bigger say on renewing emergency powers later.
But it was not a decision he had "taken lightly" – and he issued a stern warning to the government to give MPs a chance to debate future policy changes.
His ruling ends the prospect of a backbench Conservative rebellion.
Dozens of Tory MPs were backing an amendment by senior Tory MP Sir Graham Brady calling for future regulations affecting the whole of England only to be introduced if Parliament has the opportunity to debate and vote on them in advance.
In a statement before Prime Minister's Questions, Sir Lindsay said he was unable to select any amendments ahead of a vote on the renewal of the powers to avoid "undermining the rule of law".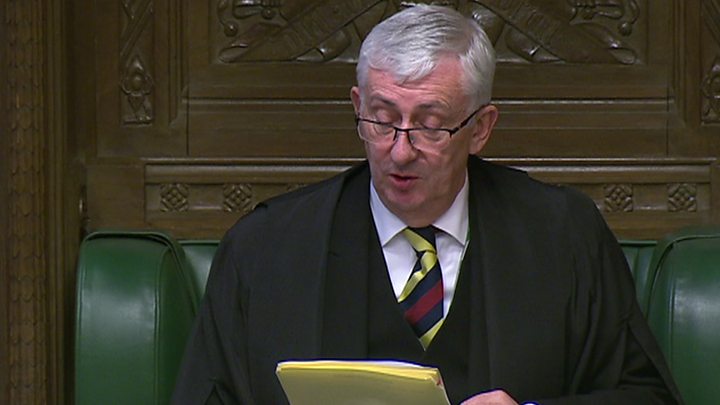 But he added: "The way in which the government has exercised its powers to make secondary legislation during this crisis has been totally unsatisfactory.
"All too often important statutory instruments have been published a matter of hours before they come into force and some explanations as to why important measures have come into effect before they can be laid before this House has been unconvincing and shows a total disregard for the House."
He said he was "now looking to the government to rebuild trust with the House not treat it with the contempt it has shown".
He encouraged MPs to table more urgent questions and motions to challenge ministers and make them come to the Commons to explain their actions.
BBC political editor Laura Kuenssberg said "all is not well between Downing Street and the Conservative Party backbenches" but a compromise between the two sides was expected to be announced by Health Secretary Matt Hancock in the Commons shortly.
Speaking on Politics Live on BBC Two, she said it was "fascinating" that the Speaker is encouraging urgent questions and debates on Covid-19 restrictions, especially as Sir Lindsay Hoyle is not an "activist speaker" in the way that his predecessor John Bercow was.
Sir Graham, who is chairman of the influential 1922 Committee of Tory MPs, said he remained hopeful that the government will make concessions.
'Good compromise'
In a statement, he said: "The Speaker set out his reasons for not selecting any amendments but he also made it clear that he expects the government to ensure proper and timely parliamentary scrutiny.
"I am hopeful that the government will respond appropriately this afternoon."
Conservative MP Steve Baker, one of those seeking more checks over the government's powers, said he was satisfied with the Speaker's ruling.
"Mr Speaker's decision is entirely reasonable and his statement will reassure all MPs supporting Sir Graham.
"I hope and expect to reach a good compromise with the government shortly so we can advance as one team."
Vote later
The Commons will vote on whether to renew coronavirus legislation passed at the start of the pandemic in March, which gives the government sweeping powers to act but has to be extended every six months.
At least 16.6 million people in the UK – about one in four people – are subject to local lockdowns – and a growing number of MPs have expressed their concern that the measures are disproportionate even though they have often been requested by local leaders.
MPs are concerned recent interventions – including Wednesday's tightening of restrictions on separate households in the North East of England mixing indoors in public places – have been announced with little warning or debate.
Meanwhile, the Lib Dems said they would vote against extending the Coronavirus Act because of the power it gave ministers to "reduce rights" for carers.
What are the coronavirus powers?
The powers that ministers are using to respond to the pandemic are based on two Acts of Parliament.
The Coronavirus Act, an emergency piece of legislation fast-tracked through Parliament at the end of March, grants extensive powers to the authorities to tackle Covid.
It was used to close schools, postpone elections and stop mass gatherings. It also allows the authorities to forcibly quarantine anyone testing positive for the virus.
It is due to remain in force for two years, although there is a six-month review on Wednesday, when MPs will decide whether it should continue.
But most of the major interventions – including the national lockdown and the current local restrictions across England – are based on much-older legislation going back nearly 40 years.
The 1984 Public Health (Control of Disease) Act, passed by Parliament during the Thatcher era, gave her government and its successors very broad powers to deal with medical emergencies.
Successive measures to control the virus, such as the mandatory wearing of face masks in shops and the "rule of six" limit on gatherings, have been introduced through regulations linked to this law.
Regulations are legislative instruments which must be approved by Parliament but are often not debated.
They can subsequently be amended to authorise further restrictions although ministers are required to review the initial regulations every 28 days when Parliament is sitting.
The Health Protection Regulations 2020, which introduced the lockdown, came into force when Parliament was not sitting in late March and were retrospectively approved in early May.
In some cases during the pandemic, government policy has been based on voluntary guidance which, while it does not have legal force, has often been more restrictive.
Are you in an area under lockdown? How are the rules affecting you? Share your experiences by emailing haveyoursay@bbc.co.uk.
Please include a contact number if you are willing to speak to a BBC journalist. You can also get in touch in the following ways: