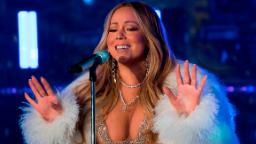 Father: Alfred Roy Carey, aeronautics engineer
Mother: Patricia (Hickey) Carey, opera singer and voice coach
Marriages: Nick Cannon (2008-2016, divorced); Tommy Mottola (1993-1998, divorced)
Children: with Nick Cannon: Moroccan and Monroe (twins)
Other Facts
Has a five-octave vocal range.
Supported herself as a waitress and back-up singer before being signed to Columbia Records.
Timeline
1988 – Columbia Records executive Tommy Mottola listens to Carey's demo tape and signs her to the label.
1990 – Her debut album, "Mariah Carey," is released. It goes on to sell more than six million copies and spawn four number one singles.
1991 – Carey wins two Grammy Awards: Best Pop Vocal Performance, Female, for "Vision of Love" and Best New Artist.
September 2001 – Carey stars in a semi-autobiographical movie, "Glitter," and releases an album of the same name. Both the album and movie are unsuccessful critically and commercially.
2006 – Wins three Grammy Awards: Best Contemporary R&B Album, with Brian Garten and Dana John Chappelle for "The Emancipation of Mimi," Best R&B Song, with Jermaine Dupri, Johntá Austin, and Manuel Seal Jr., for "We Belong Together," and Best Female R&B Vocal Performance for "We Belong Together."
2009 – Portrays a social worker in the film "Precious," directed by Lee Daniels.
2013 – Appears as a judge for the 12th season of "American Idol."
January 16, 2019 – Carey's former assistant, Lianna Shakhnazaryan, files a civil lawsuit claiming she was harassed and tormented by Carey's manager, Stella Bulochnikov. In the complaint, Shakhnazaryan alleges that she was physically abused and urinated on by Bulochnikov, and that Carey was sometimes present for the abuse and allowed it to continue. Carey files her own lawsuit against Shakhnazaryan, claiming breach of contract, invasion of privacy and extortion.
September 29, 2020 – Carey's memoir, "The Meaning of Mariah Carey," is published.