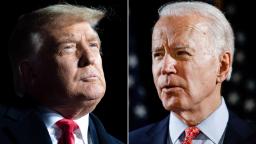 Nevada election officials say they expect to release more election results on Thursday from the battleground state where six electoral votes hang in the balance.
Secretary of State Communications Director Jennifer Russell confirmed to CNN officials will provide updated election results Thursday at 12 p.m. ET / 9 a.m. PT.  Those results will include additional votes from the state's two most populated counties.
In pivotal Clark County, home to Las Vegas and nearly 70% of the state's active voters, early in-person voting and ballots cast on Election Day show former Democratic nominee Joe Biden with a slight edge over President Trump. But thousands of outstanding mail-in ballots could determine the race.
Of the 1.2 million ballots sent to Clark County voters, records show 413,000 have been returned so far, of which officials have processed 337,000. But ballots postmarked by Nov. 3 will still be counted if they are received by Nov. 10. It is not known how many more ballots are yet to be received.
Clark County Registrar Joe Gloria confirmed Wednesday afternoon he will not release the number of mail-in ballots dropped off on Election Day, as well as those delivered by the US Postal Service on Nov. 3 and 4 until Thursday morning. 
Asked late Tuesday if mail-in ballots could potentially flip the election, Gloria replied "…it all depends on the margin of victory, but certainly that is a possibility." 
The county is also still processing provisional ballots, those sent to voters overseas, disabled voters and those from new residents. Nevada is one of 19 states that allows same-day voter registration.
In Washoe County, home to the city of Reno and the state's second most populous county, the registrar of voters said all Election Day in-person votes and ballots received on Tuesday have been processed.
The county registrar said more than 21,000 votes were counted on Election Day and another 9,000 mail-in and ballots placed in drop boxes are being tallied.