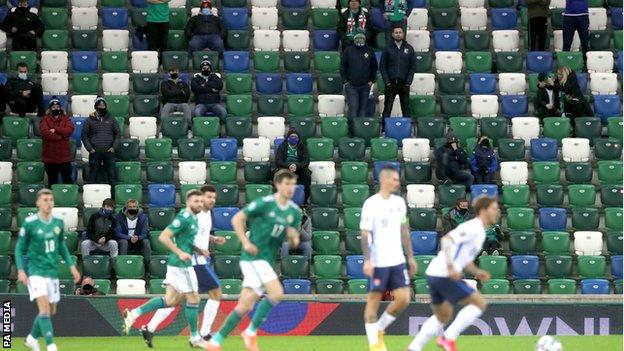 A maximum of 4,000 fans will be allowed at outdoor events in the lowest-risk areas when the four-week lockdown in England ends on 2 December.
Up to 2,000 fans will be allowed in tier two areas but none in tier three.
Elite sport has continued behind closed doors, but grassroots and amateur sport has been halted since 5 November.
UK Prime Minister Boris Johnson said on Monday that events in the lower two tiers would be able to resume "with capacity limits and social distancing".
Johnson was speaking via video link to the House of Commons to outline new measures as part of the government's new Covid-19 restrictions in England.
MPs will vote on the plans later this week.
"In tiers one and two, spectator sports and business events will be free to resume inside and outside with capacity limits and social distancing," said Johnson.
"Later this week, we will announce which areas will fall into which tier – I hope on Thursday – based on analysis of cases in all age groups, especially the over-60s.
"Also, [it will involve] looking at the rate at which cases are rising or falling, the percentage of those tested in a local population who have Covid and current and projected pressures on the NHS."
Culture Secretary Oliver Dowden described the announcement as "a big step forward for fans as we work towards fuller capacities".
"Thanks to pilot hosts and fans for showing this can be done safely," he added on social media.
More to follow.