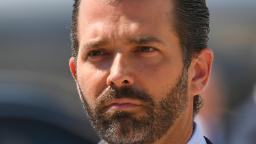 "Don tested positive at the start of the week and has been quarantining out at his cabin since the result," the spokesman said. "He's been completely asymptomatic so far and is following all medically recommended COVID-19 guidelines."
In a video posted to Instagram later Friday, Trump Jr. confirmed he tested positive, said he was "totally asymptomatic," and added that "out of an abundance of precaution, I'll quarantine."
"I'll follow the regular protocols. You know, take it seriously," he said. "No reason to do anything otherwise, but again totally asymptomatic, which is what's weird about it."
On Friday, Trump Jr. said he found out he was positive for Covid-19 after getting tested ahead of a planned trip with his son and that he would continue to follow safety protocols for now, and "maybe get another couple tests" to see if he will be able to spend the holidays with his family.
The President on Saturday updated his Twitter followers on his son's condition, saying that "my son Donald is doing very well."
The White House says it constantly tests those around the President and Vice President Mike Pence, but officials often take a lax approach to following US Centers for Disease Control and Prevention's guidelines to wear a mask and social distance.
This story has been updated with additional information.
CNN's Ali Main contributed to this report.