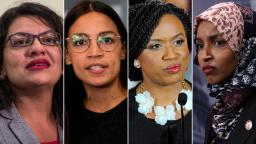 Since taking office in January 2019, the lawmakers, all women of color, have electrified the left's progressive base and lit up social media, but have also attracted controversy and the ire of President Donald Trump.
None of the incumbents faced significant challenges in their first reelection bids this year.
Ocasio-Cortez will win reelection to New York's 14th Congressional District against two challengers, Republican John C. Cummings and Michelle Caruso-Cabrera of the Serve America Movement party, CNN projects.
The race for the deeply Democratic seat representing parts of Bronx and Queens in New York City was never considered competitive. Yet the high-profile first-term congresswoman, often called AOC, fundraised at an aggressive clip and faced well-financed opposition in her first reelection bid.
The race also saw an abnormal amount of outside spending — overwhelmingly against Ocasio-Cortez. One group, "Stop the AOC PAC" spent $68,370 on digital advertisements and voter outreach in opposition to Ocasio-Cortez.
Ocasio-Cortez previously bested Caruso-Cabrera in this summer's Democratic primary. The longtime CNBC correspondent and anchor ran in the general election representing the Serve America Movement party.
This story has been updated with additional developments Wednesday.